New release - new features - now available


BPMN Modeler Enterprise 3.7.0 - Access process automation attributes directly from confluence
With the newest release of the viadee BPMN Modeler for Confluence Enterprise modelling your business processes becomes easier, faster, and more comfortable. At the same time we improved our modeler's interoperability with both Confluence and the process automation capabilities of Camunda's process engine. Let's have a look at the changes.
View and Edit Process Automation Attributes in Confluence
One key feature of BPMN models is their usability with respect to process automation. As a common basis that can be understood and discussed by both the business and the developer side of a project BPMN models are invaluable.
In particular, when automating processes using Camunda's process engine many of the parameters and attributes linking the process model and its implementation are stored directly with the model in the BPMN file. The newest release of the BPMN-Modeler for Confluence Enterprise now allows users to access and edit all of these attributes directly within the modeler and thus directly within Confluence. This has been achieved by extending our attribute panel by a dedicated panel for process automation available in diagram edit mode.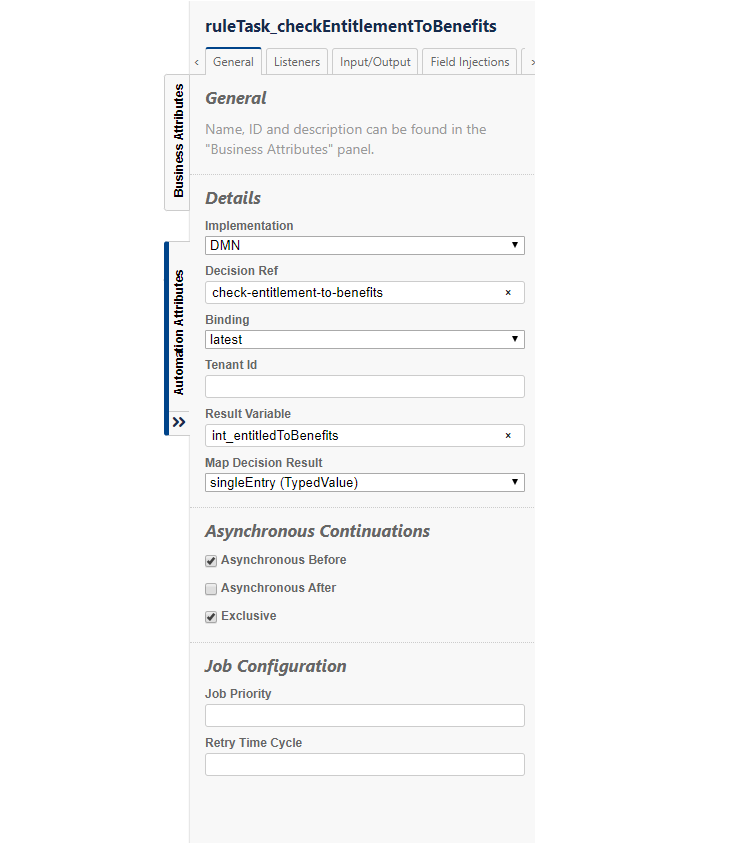 A compressed read-only presentation of these attributes can also be found in the Technical Attributes section of the Business Attributes panel.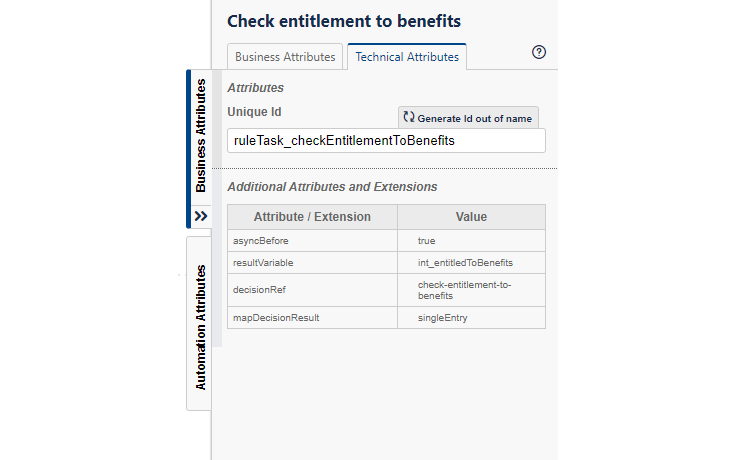 The business attributes panel is also accessible in presentation mode.
Since not every user will be interested in technical details of process automation the corresponding attribute panel can be turned of in the diagram settings.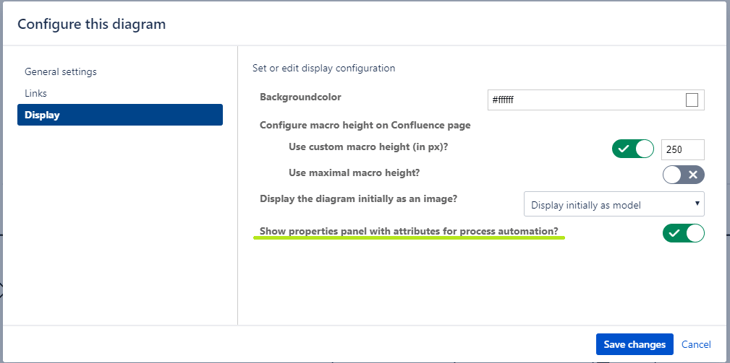 Overall, the addition of the process automation attributes panel is yet another step to enable you to collect and access all relevant process information in one single place. So far you were able to link to related files such as PDFs or images, further Confluence pages or relevant BPMN diagrams, and now your process automation attributes, too, are easily available from within Confluence. This can for example improve the collaboration between the developing end the business side of process automation projects: Your workflow might include the business side already defining a number of process variables or presetting some default implementation values all of which can now easily be done without leaving Confluence.
Confluence Drafts and Diagram Versions
When editing Confluence pages you will be familiar with the idea of draft versions of Confluence pages: Changes made e.g. to the text on the page will only be visible once the changes have been published. This allows you to polish what you are doing before saving your changes and thereby releasing a new page version. From this release onwards, your BPMN diagrams behave in much the same way: Whenever you enter the diagram editor from the Confluence page editor your changes will no longer be directly displayed on the Confluence page, but rather only after you have published your changes to the page. Thus, the work on your processes can be completed before they are shown on the page as well.
To make sure that you are always aware which version is currently being displayed on the page this version is clearly marked in the version dropdown.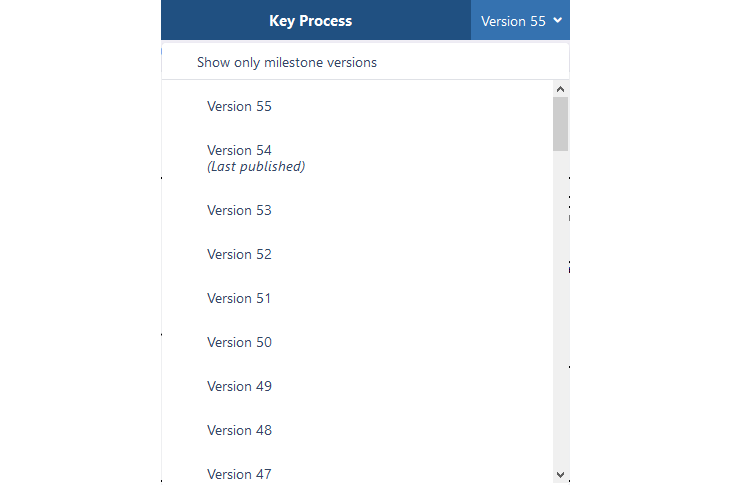 Usability Improvements
Preview Dialog for Additional Types of Links
One of the core features of the BPMN Modeler Enterprise is the capability to create links to documents, Confluence pages or other diagrams in your Confluence directly out of your model. This creates a perfect workflow to collect all required information for your process documentation in one place. We improved the experience when working with links and so the new version of the BPMN Modeler Enterprise comes with a preview dialog for even more types of linked resources. On top of the already supported preview for BPMN and DMN diagrams you will be able to preview links to Confluence attachments of type PNG, JPG, GIF, SVG (in cloud and on premise) as well as PDF (on premise only) in a neat dialog. Thus, you can checkout linked images and PDFs in one click without leaving the modeler. For those who want to keep on opening attached files in a new browser tab, this can easily be configured in the diagram settings under the Links section.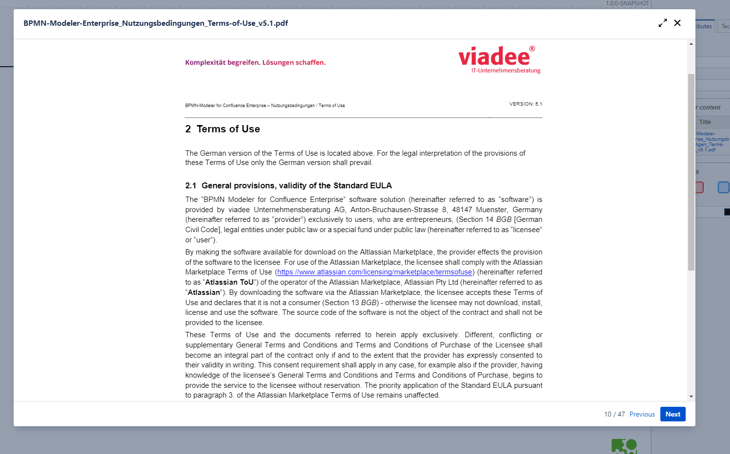 Toolbar Optimization
We are continously working on improving user experience with our app. Therefore we re-organized and cleaned up our quick access toolbar for this release. In particular, this concerns the visualization of links attached to diagram elements.

Now it is as easy as could be to toggle the visibility of each link overlay icon separately allowing you to access linked content even faster.
---
Authors

Belinda Becker joined viadee IT-Consultancy in 2019. As lead developer for the viadee Confluence plugins she is specialized in process management and web development.

Christoph Schönnenbeck, PhD, joined viadee IT-Consultancy in 2019. He focusses on business process management and automation and is part of the developing team of the viadee Confluence plugins.

Back to blog overview
---
These articles might also interest you
---
Comments