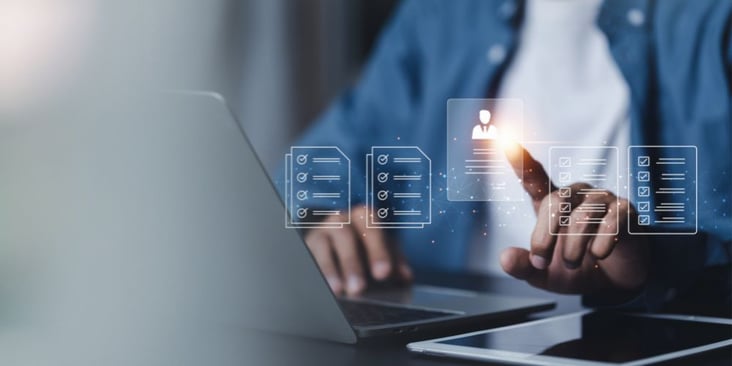 The Managed Data Fields plugin gets a handy extension with the Field Objects, which provide support for consistent information management by offering users static selection options.
What are Field Objects?
Previously, Field Definitions could be used to define text entries, selection options, calculations, and other attributes, which could then be filled with information via Field Instances. This release now adds Field Objects, which represent a predefined object consisting of a label, a web link, and a reference to a Confluence page. Field Objects are created by authorized groups of people, managed centrally, and referenced within Field Definitions as needed. Any number of Field Objects can be stored, which are presented to users as predefined selection options when creating a corresponding Field Instance. The evaluation of Field Objects can take place centrally on the basis of Field Queries and provides in-depth analyses. Since employees use and understand the same terms, this abstraction allows for a uniform company-wide terminology, avoiding misunderstandings and inconsistencies. This promotes clarity and precision in communication in the long term.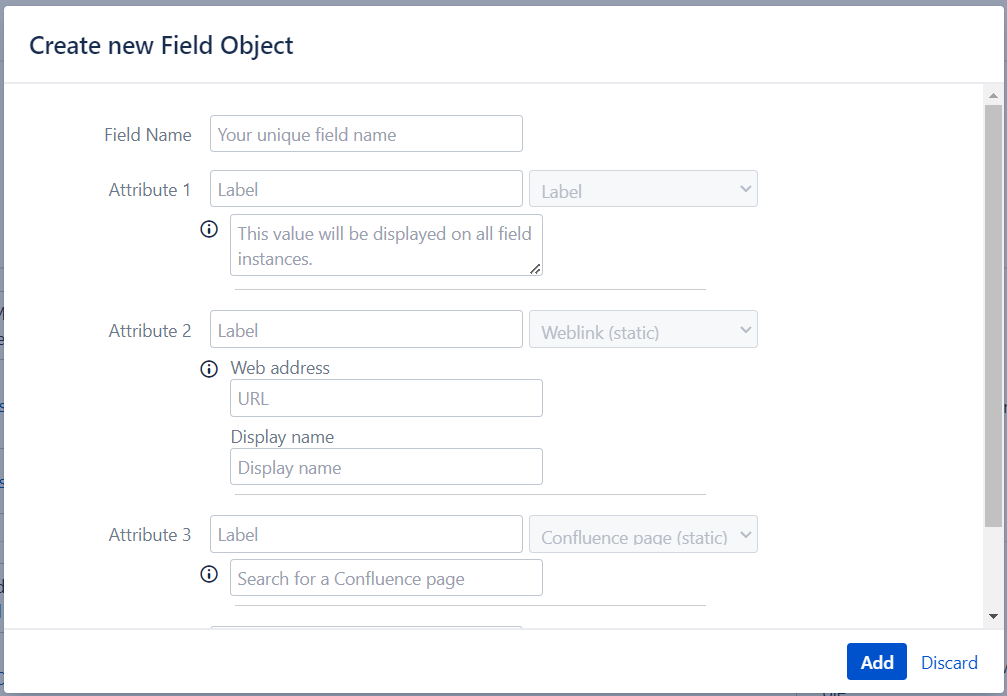 Field Objects can be viewed and managed centrally. This intuitive overview ensures consistent and unambiguous data management. In addition to the name and content of the Field Object, a description is displayed in the administration view that describes the object in more detail. Also, Field Objects can be modified and removed.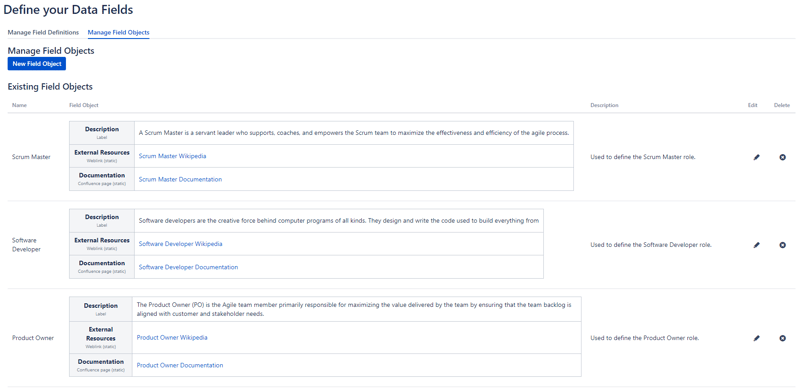 Once defined, Field Objects are conveniently selectable and the repeated manual entry of the same information is no longer necessary. This saves time and reduces the risk of typing errors.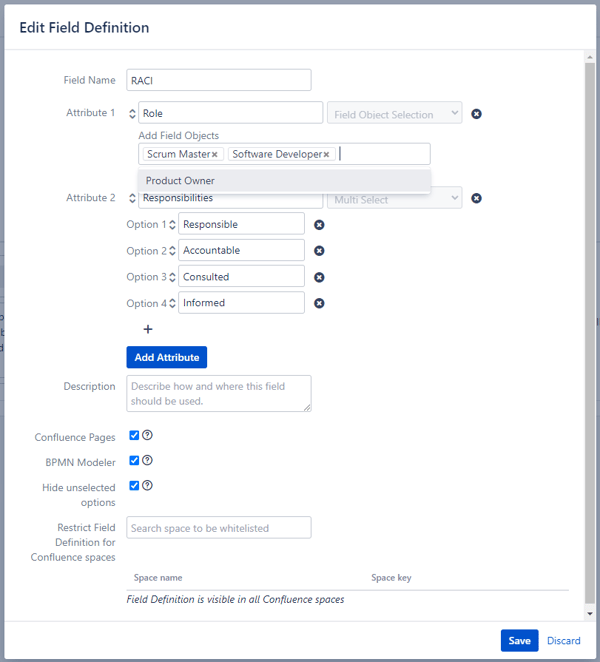 How can Field Objects be used?
The application possibilities of Field Objects are manifold. Several Field Objects can be stored in a Field Definition, from which the appropriate one can be selected in the Field Instance. Examples of use cases in which Field Objects can be used are the definition of different roles within a project (e.g., as a RACI matrix) or the definition of IT systems used.
The evaluation of these concepts by means of the Field Queries is particularly useful. This way, clear definitions, responsibilities, and participations can be quickly overviewed and classified. They provide valuable insights for your company and offer efficient insights into important facts. The use of web links and Confluence pages makes it possible to link additional information or documentation directly to the Field Object.
Use Case BPMN Modeler
In the following example, the responsibilities of a Scrum project are stored in a process model using the Field Objects. In order for Field Objects to be referenced in the BPMN Modeler, they must first be created and stored within a Field Definition, which is only done by authorized groups of people (e.g., a BPM Center of Excellence). For this example, the roles Scrum Master, Software Developer and Product Owner were defined as Field Objects. Users are then able to select the roles in the attribute window of a BPMN element.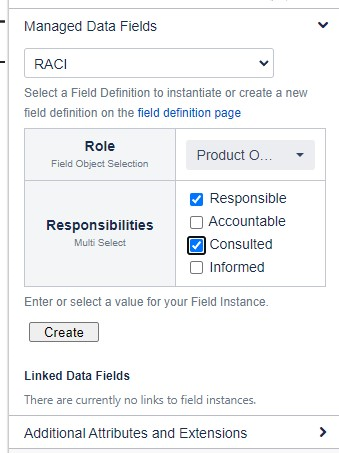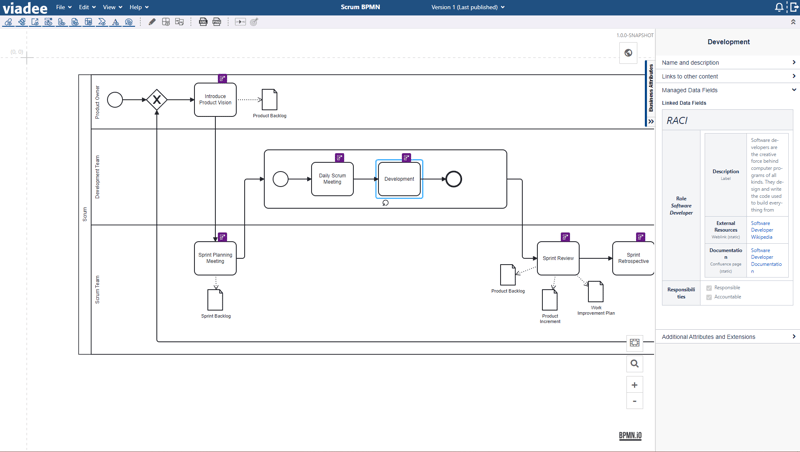 Use Case Field Query
The previously entered information is now retrievable and available for further analysis.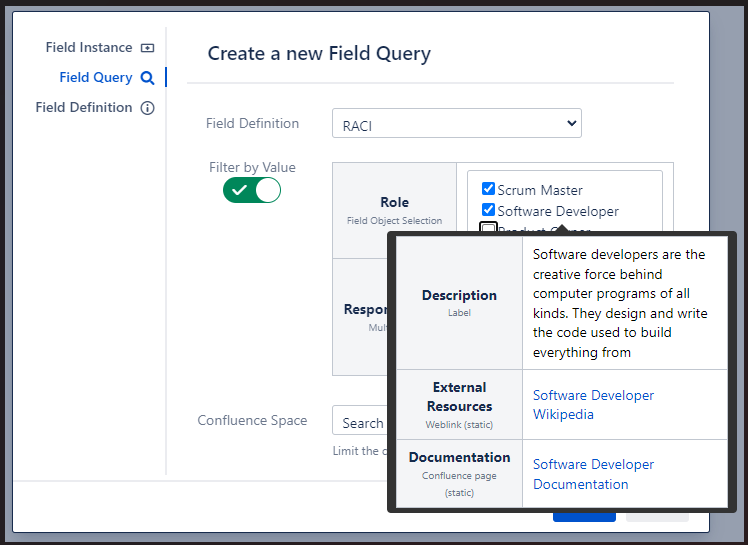 The result of the query shows a RACI matrix, which clearly displays all the information previously entered. This is especially interesting for a Center of Excellence or groups of people like POs, users, stakeholders and many more who need deeper insights and evaluations.

Optimize the quality of your information!
With the combination of Field Objects, Field Definitions and the Field Instances, you have powerful tools at hand to help your organization efficiently evaluate your information and data, manage it, minimize sources of error and create clear definitions of terms. Integrate this useful tool and raise your information base to a new level.
You can find more information in our manuals for Field Objects. Not using our apps yet or have questions? Visit us on the Atlassian Marketplace (Managed Data Fields, BPMN Modeler Enterprise) and feel free to contact us!
Back to blog overview
---
These articles might also interest you
---
Comments