If several departments, such as Marketing and IT, employ Managed Data Fields in their everyday work, a Marketeer is usually not interested in Field Definitions used by the IT department. Taking this into account, we have facilitated the use and management of data fields by introducing Confluence space restrictions. Field Definitions can now be assigned to one or more Confluence spaces. This assignment affects both the display of existing Field Definitions, as well as the ability to create Field Instances on Confluence pages.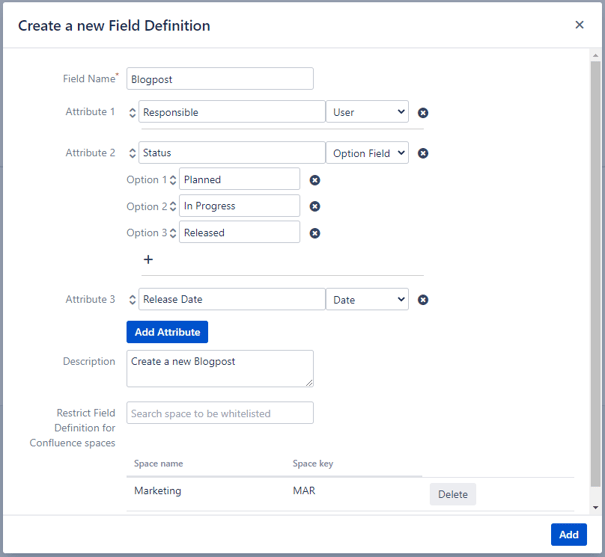 The table of all existing Field Definitions can now be filtered for a certain Confluence space, so that only Field Definitions assigned to the selected space are displayed. This helps you to find the Field Definition you are looking for faster. A Field Definition's space restriction is also reflected in it's ability to be instantianted on Confluence pages. From now on you might only instantiate those data fields that are either assigned to all or your current Confluence space. The new feature also considers Confluence's permission system: restricted Field Definitions are only visibile to users that have at least read permissions for the space.
Try it out
The Managed Data Fields Plugin for Confluence is available on the Atlassian Marketplace. Additionally you can try it out on our demonstration site.
If you have any feedback or features, you like to request, we will be happy to hear from you.



zum Blog