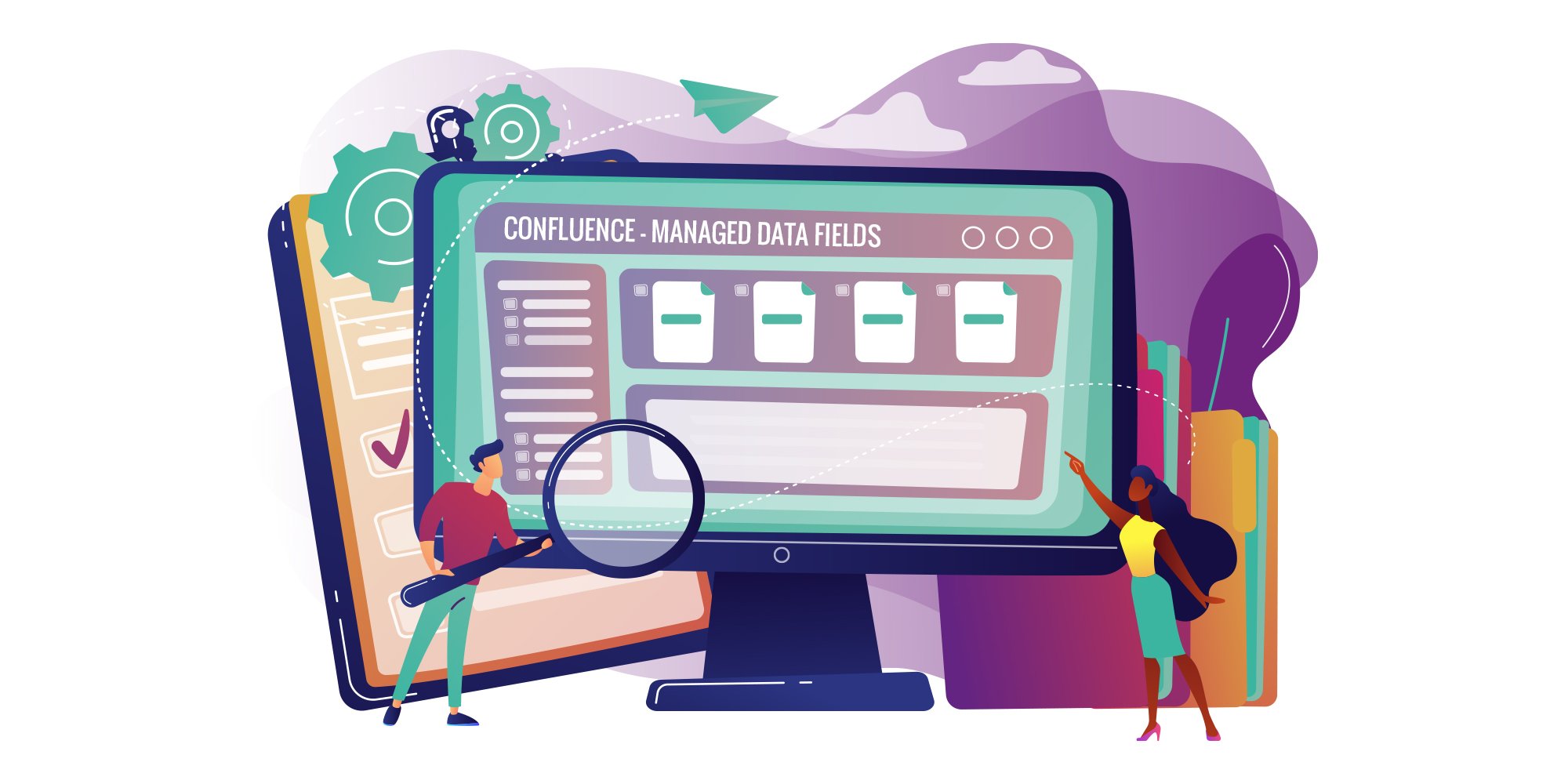 Do you use Confluence in your company and regularly summarize the outcome of your meetings there? Do you document your business processes, business rules or software projects? Are you planning an event? Our new plugin "Managed Data Fields" for Confluence simplifies these tasks by allowing you to create field definitions once, use them on all Confluence pages and even evaluate them across multiple pages. The application scenarios are very versatile. Let's discover them together!


INCREASE YOUR EFFICIENCY
Wherever the same piece of information is required to be recorded multiple times, Managed Data Fields can be used to simplify and accelerate the documentation process. The structure of a data field is defined globally once and can then be integrated on all Confluence pages. If your documentations are required to meet standards, norms or internal guidelines, they can easily be taken into account when defining the structure of your data field.
Managed Data Fields save time and increase the quality of your documentation. If your documentation standards change or adaptations become necessary, you only need to make the modification once in the global definition. On pages where the Managed Data Fields are already in use, these modifications are automatically applied. There is even a synchronization option for omitted fields so that no data is lost.
The versatility of the Managed Data Fields plugin is demonstrated in these possible case studies.
DOCUMENT SOFTWARE AND PROCESSES
It's a matter of course to every developer: During a (software) project, documentation has to be created for traceability and maintainability - as uniform and transparent as possible. With Managed Data Fields you can easily fulfill your documentation obligations. You define once which aspects you want to document and then use this field whenever documentation is useful. This way you ensure that your documentation is consistent, easy to understand and complete! No matter where a documentation is integrated in Confluence, all fields can be evaluated and analyzed via a field evaluation. Our video shows the workflow within the Managed Data Fields App for a common use case: The documentation of business processes.
Managed Data Fields can not only be used for technical documentation; the application possibilities are endless. Let's imagine you are planning a digital event with various lectures and activities.
COLLECT SUGGESTIONS AND BRAINSTORM TOGETHER
Invite your team to submit ideas and brainstorm digitally. Simply use the Managed Data Fields plugin. It enables you to submit proposals in a structured way and to easily evaluate and score the proposed ideas using the evaluation function.
For example, you could create a complex field and have it used by your team members for a standardized submission of an idea.
Status: In this attribute we record the current status of the idea.
Topic / Question / Idea: With the help of a short title, the topic or topic field can be grasped at a glance.
Suggested from: In order to ensure that the coordination of the lecture series runs efficiently and that questions can be asked in a targeted manner, the person submitting the respective idea is registered here.
(potential) Speaker: The person who may be suitable to present the suggested topic.
Interested person: This attribute serves to allow other colleagues to express their interest in the topic, so that a high level of interest in a topic is directly visible.
Additional information: Additional information can be entered here to describe a proposal in more detail. In addition, it is possible for interested persons to enter questions or comments in advance, which can then be taken into account when planning the lecture.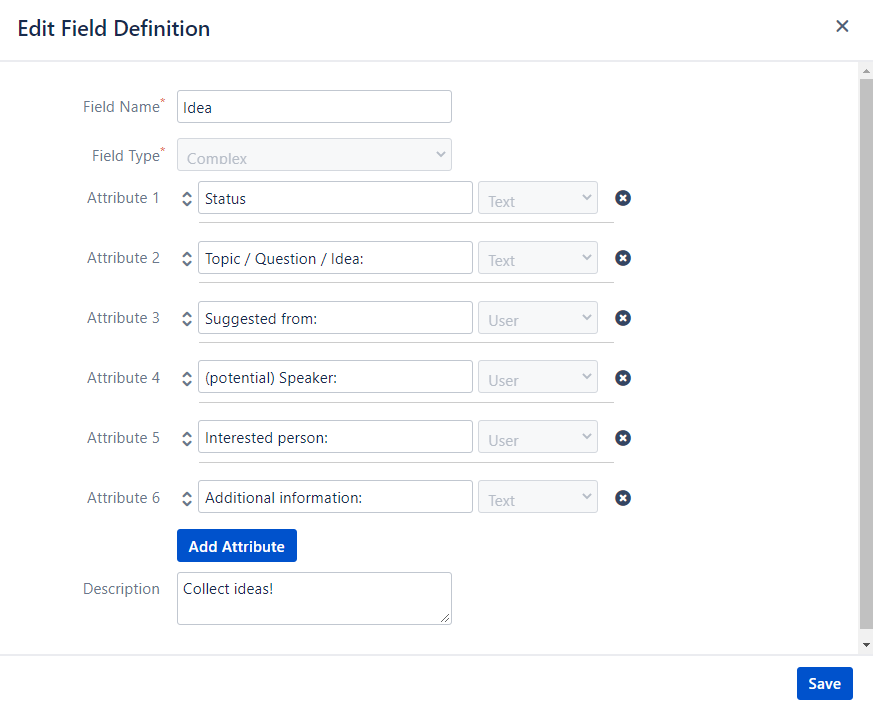 Your team members submit their ideas by creating an instance of the Managed Data Field and filling out the specified attributes: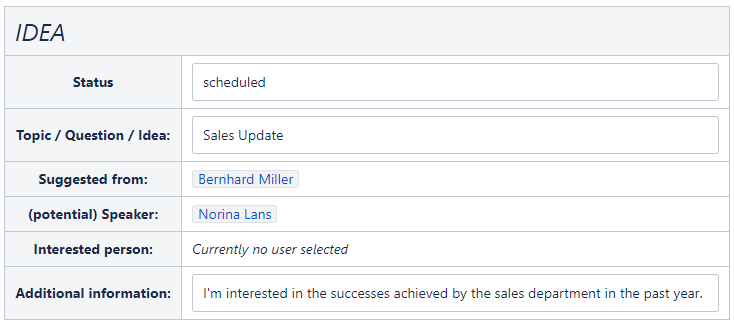 Then, you generate an evaluation of all fields and thus receive a clear table with all submissions.

You can sort and filter them, for example by status "scheduled":

SCHEDULE DATES
For a successful event it is also important to choose a suitable date. As many team members as possible should be able to participate. Instead of using an external tool for this, you can simply create a Managed Data Field and have the results evaluated in a diagram. This gives you a quick overview of the preferred dates. Unlike familiar scheduling tools, you can also include priorities or other individual aspects.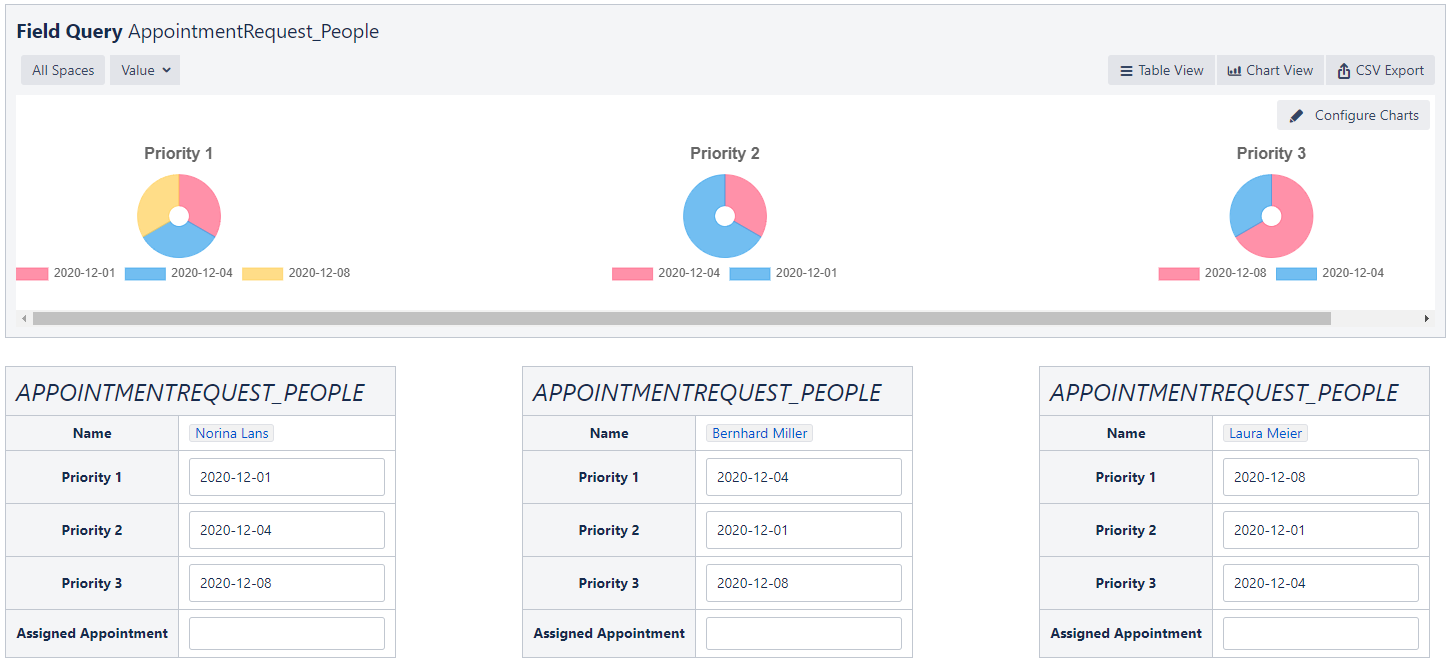 Alternatively, a Managed Data Field may be used to register for a specific date.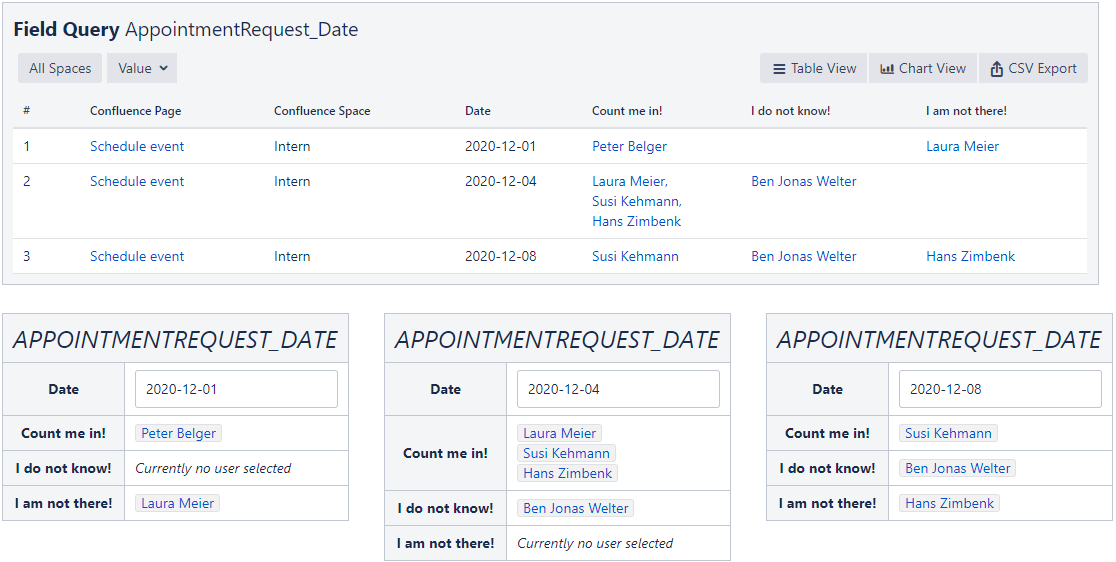 WRITING PROTOCOLS
Regular coordination within your team is essential during the planning phase of your event. Moreover, the decisions made should be recorded and documented. The Managed Data Fields Plugin can help here, as well. Instead of a table that you have to copy over and over again, you create a structured data field that you can reuse, merge and - unlike tables - also evaluate. For example, who attended how often, or whether certain problems occur frequently.


Overview of all protocols


Evaluation of the attendance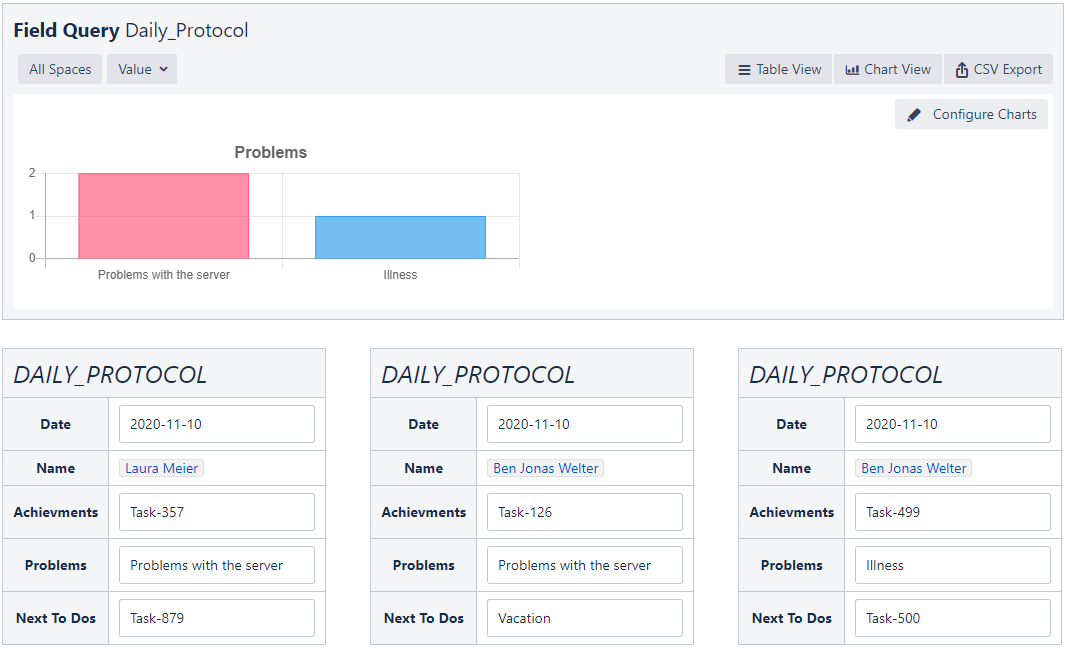 Evaluation of common problems
Test our plugin
The Managed Data Fields App for Concluence allows you to focus on the essentials and collaborate efficiently. You are not yet a user of the plugin, but would like to try it out? You can download the App free of charge for an evaluation in the Atlassian Marketplace. In our demo environment you can also directly try out the examples described above. Additionally, there is currently a 20% promotion for purchasing the plugin. If you are interested, please contact us via our contact form.
---
We are curious, which use cases come to your mind? What other features would you like to see? Please leave us a comment or drop us a line.
---
Back to blog overview
---
These articles might also interest you
---
Comments